Panorama Lodge Kitzsteinhorn – up to 8 persons
occupancy 4 / 5 / 6 persons, about 95 m² (7th and 8th person + € 20,00/night)
01.11. – 18.12.2020
€ 200,00 (4 Pers.)
€ 250,00 (5 Pers.)
€ 290,00 (6 Pers.)
19.12. – 25.12.2020
€ 260,00 (4 Pers.)
€ 325,00 (5 Pers.)
€ 390,00 (6 Pers.)
26.12. – 06.01.2021
€ 480,00 (4 Pers.)
€ 520,00 (5 Pers.)
€ 560,00 (6 Pers.)
07.01. – 29.01.2021
€ 260,00 (4 Pers.)
€ 290,00 (5 Pers.)
€ 320,00 (6 Pers.)
30.01. – 26.02.2021
€ 360,00 (4 Pers.)
€ 390,00 (5 Pers.)
€ 420,00 (6 Pers.)
27.02. – 12.03.2021
€ 280,00 (4 Pers.)
€ 320,00 (5 Pers.)
€ 360,00 (6 Pers.)
13.03. – 26.03.2021
€ 260,00 (4 Pers.)
€ 290,00 (5 Pers.)
€ 320,00 (6 Pers.)
27.03. – 05.04.2021
€ 280,00 (4 Pers.)
€ 320,00 (5 Pers.)
€ 360,00 (6 Pers.)
06.04. – 30.04.2021
€ 200,00 (4 Pers.)
€ 250,00 (5 Pers.)
€ 290,00 (6 Pers.)
7th and 8th person
+ € 20,00/night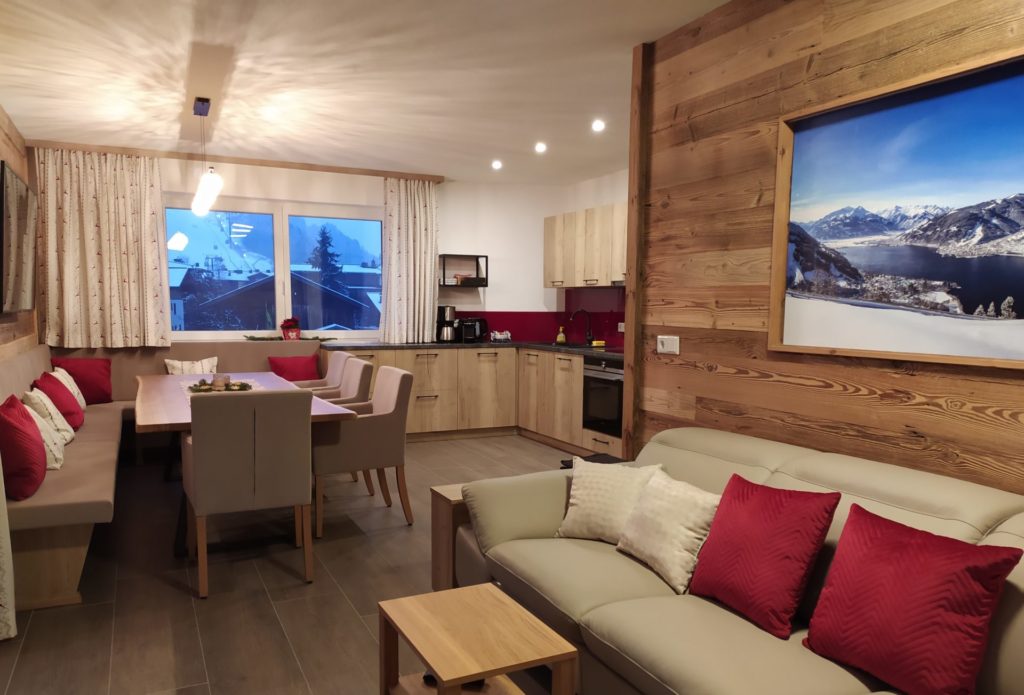 + final cleaning: € 120,00, + € 2,05 local tax / tourist fund subsidy per person over 15 years.
Cash damage deposit: € 300,00
Children from 0 – 2 years stay free
Studio Lodge Maiskogel
occupancy: 2 persons, about 30 m²
01.11. – 18.12.2020
€ 100,00 (2 pers.)
19.12. – 25.12.2020
€ 130,00 (2 pers.)
26.12. – 06.01.2021
€ 150,00 (2 pers.)
07.01. – 29.01.2021
€ 100,00 (2 pers.)
30.01. – 26.02.2021
€ 130,00 (2 pers.)
27.02. – 12.03.2021
€ 120,00 (2 pers.)
13.03. – 26.03.2021
€ 100,00 (2 pers.)
27.03. – 05.04.2021
€ 120,00 (2 pers.)
06.04. – 30.04.2021
€ 90,00 (2 pers.)
Prices per apartment/night. All prices are in €
+ final cleaning: € 50,00, + € 2,05 local tax / tourist fund subsidy per person over 15 years.
Cash damage deposit: € 200,00
Comment

minimum stay 3 nights, daily departure possible, shorter stays on request

Arrival: apartments are available from 3:30 p.m. on the day of arrival
Departure: up to 09:30 a.m.
Our flexible payment / cancellation policy for winter 2020/21:
You can cancel free of charge up to 48 h before arrival, later 100% of the room rate, as well as in the event of a no-show or early departure. A down payment of 40% of the travel price must be made within 7 days of booking by bank transfer.
60% of the travel price can be paid up to one month before travel by bank transfer or paid in cash at arrival. The final cleaning (if not already paid) and visitor's tax has to be paid in cash during at departure.
In order to ensure that you are well protected in the event of a case and do not suffer any financial disadvantages, we recommend concluding a travel insurance with the assurance of your trust.